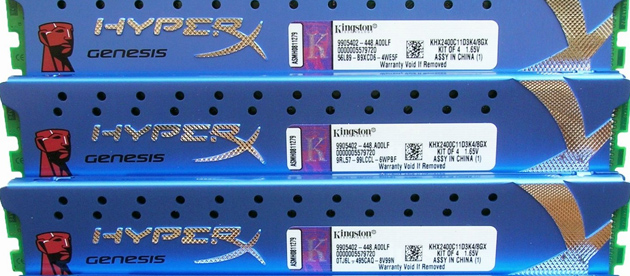 Kingston Technology HyperX Family
Heatspreader
Product Name
Frequency/
Latency
Channels
Voltage
Positioning
2400MHz C9
2333MHz C9
2250MHz C9
2133MHz C9
2000MHz C9
1866MHz C9
1800MHzC8/C9
1600MHz C8/C9
DDR2 1066Mhz C5
Dual
Dual/Triple
Dual/Triple
Dual
Dual/Triple
Triple
Dual/Triple
Dual/Triple
Dual
XMP1.65V
Proiectat pentru pasionatii la extrem si pentru profesionisti, HyperX T1 este prevazuta cu aripioare inalte, pentru maximum de disipare a caldurii la frecvente ridicate.
2133MHz C9
2000MHz C9
Dual
Triple
XMP1.65V
HyperX H2O de la Kingston este ideala pentru cei pasionati la maximum de jocuri si de computere.
HyperX H2O este proiectata pentru asigurarea unor viteze ridicate si a unor performante extreme. Este prevazuta cu o optiune unica de racire extrema, cu dispare a caldurii cu ajutorul unui lichid.
2000MHz C9
1866MHz C9
1800MHz C8/9
1600MHz C7/8/9
1333MHz C7/C9
1066Mhz C5
DDR/DDR2
Triple
Dual/Triple
Dual/Triple
Dual/Triple
Dual/Triple
Dual
Dual
XMP1.65V
Kingston HyperX Genesis sets the standard in high-performance memory. It offers greater thermal performance, higher frequency speed and lower latency and is ideal for gamers, enthusiasts and system integrators.
1866MHz C9
1800MHz C9
1600MHz C9
1333MHz C9
Dual
Dual
Dual
Dual
XMP1.35V
XMP1.25V
HyperX LoVo reprezinta evolutia in materie de tensiuni reduse si performante ridicate. Tensiunea redusa inseamna un consum redus, adica mai putina caldura si ventilatoare mai lente, pentru functionarea silentioasa a computerelor.
1600MHz C9
1333MHz C9
DDR2 800MHz C5
Dual
Dual
Dual
XMP1.65V
Proiectata pentru necesitatile utilizatorilor incepatori si obisnuiti, HyperX blu prezinta un model simplificat, fara clic. Radiatoarele asigura performante termice la pret mai bun.
HyperX SoDIMM
1866MHz C9
1600MHz C9
1333MHz C7
1066MHz C5
DDR2 800MHz C4/C5
DDR2 667MHz C4
Dual
Dual
Dual
Dual
Dual
Dual
XMP 1.5V
Aceasta memorie de inalta performanta pentru computere mobile este alegerea perfecta pentru utilizatorii de notebook-uri care doresc imbunatatirea performantelor sistemului prin inlocuirea memoriei standard cu module de inalta performanta.
HyperX Fan
Ventilatorul HyperX cu doua elice de 60 mm optimizeaza fluxul de aer din jurul modulelor, permitand functionarea memoriei la performante maxime pe perioade de timp mai indelungate. Ventilatorul este confectionat din aluminiu, iar palele sunt luminate de opt leduri de dimensiuni reduse, de culoare albastra.