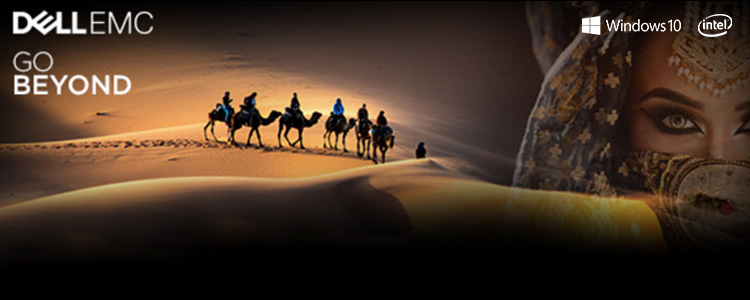 Go Beyond with Dell EMC!
Pregătește-te de aventură! Înscrie-te alături de ASBIS în programul "GO Beyond with Dell EMC" și poți pleca la Marrakech în Februarie 2019!
Toți reseller-ii autorizați* Dell EMC sunt invitați să participe în program, alegându-și Distribuitorul alături de care vor participa la concurs. Fiecare Distribuitor are 2 ligi în care partenerii săi se pot înscrie:
Liga CSG – Client Solutions Goods

Liga ISG – Infrastructure Solutions Goods
Un partener poate alege să participe într-una dintre acestea sau în ambele, în funcție de soluțiile de business Dell EMC pe care le promovează. Odată înscris, fiecare partener va primi un target – cantitativ în cazul ligii CSG și valoric în cazul ligii ISG – pe care va trebui să-l atingă sau să-l depașească pentru a se califica pentru un loc la Seminarul Dell EMC din 25-27 Februarie 2019 - Marrakech, Maroc. Câștigător al fiecărei ligi va fi ales partenerul care-și va atinge targetul sau își va depăși targetul cu cea mai mare valoare procentuală.
Perioada de derulare a programului este: 15 Octombrie – 10 Decembrie 2018
Produse eligibile:
Liga CSG – toate produsele Client Solutions cu excepția celor din categoria DcP (Displays and Peripherals)

Liga ISG – Servere, Networking, Storage, Data Protection
Condiția obligatorie pentru înscrierea în programul "GO Beyond with Dell EMC" este acceptarea "Termenilor și Condițiilor" de aici: https://incentives.dellpartnerincentives.com/Login
Ulterior înscrierii în program, fiecare partener își va putea urmări evoluția în portalul dedicat.
*Partenerii care nu sunt încă înscriși în Dell EMC Partner Program o pot face acum, ulterior putându-se alătura programului "GO Beyond with Dell EMC": https://www.dellemc.com/partner/ro-ro/partner/partner-application.htm
Alege ASBIS! GO Beyond!